Going on a trip to international destinations is a dream for many, whether it's a solo adventure, a family getaway, or a fun trip with friends. And when you can find International Budget Friendly Travel Destination that align with your wish list and fit your budget, it's like a dream come true. Imagine enjoying a vacation without any financial burden weighing on your pockets.
With budget-friendly holiday tour packages, you can make your dream of exploring international destinations a reality. Whether you want to visit a serene beach gateway, a thrilling adventure in the mountains, or a cultural immersion in vibrant cities, there are options available that won't break the bank. So, start planning your trip and get ready to create unforgettable memories without worrying about the cost.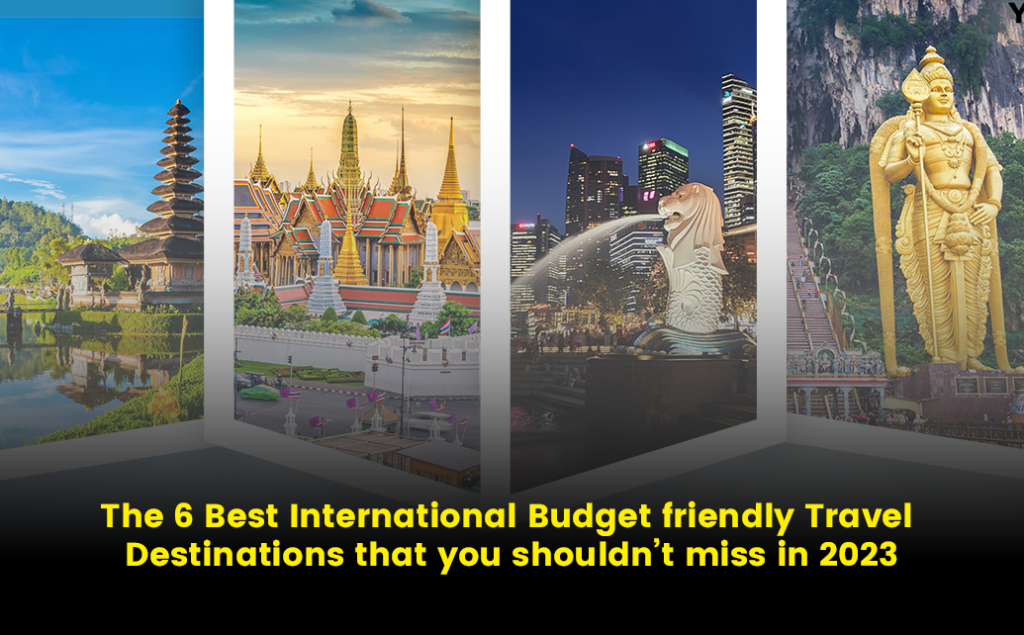 Here is the list of low-budget international travel destination trips for India for 2023:
1. Bali – A Tropical Paradise:
Escape to the captivating island of Bali, known for its stunning beaches, lush landscapes, and vibrant culture. The Bali trip promises a delightful combination of relaxation and adventure. From tranquil beachside retreats to thrilling water sports, immerse yourself in the beauty and charm of this Indonesian gem.
2. Thailand & Bangkok – A Blend of Tradition and Modernity:
Discover the wonders of Thailand with Traveltovizag.com's Thailand and Bangkok tour packages. Experience the bustling streets of Bangkok, where ancient temples coexist harmoniously with modern skyscrapers. Indulge in the rich culinary scene, explore vibrant markets, and witness the famous floating markets. From there, venture out to explore Thailand's breathtaking islands, such as Phuket, Krabi, and Koh Samui, where azure waters and pristine beaches await.
3. Maldives – Paradise on Earth:
Unwind in the epitome of luxury and tranquility of Maldives. Bask in the idyllic beauty of this archipelago, renowned for its crystal-clear turquoise waters, dazzling coral reefs, and exquisite overwater villas. Dive into the underwater world, indulge in rejuvenating spa treatments, or simply relax on the white sandy beaches—your Maldives experience will be nothing short of extraordinary.
4. Singapore – A City-State of Wonders:
Traveltovizag.com's Singapore tour package invites you to explore this dynamic city-state where tradition meets innovation. Discover the iconic Marina Bay Sands, visit the enchanting Gardens by the Bay, and embark on a shopping spree along Orchard Road. Delve into the diverse culinary scene and experience thrilling attractions like Universal Studios Singapore. Singapore promises an unforgettable adventure for all.
5. Malaysia – A Tapestry of Cultures:
Immerse yourself in Malaysia's cultural tapestry of Malaysia. Explore the vibrant streets of Kuala Lumpur, marvel at the iconic Petronas Twin Towers, and savor the delicious street food. Venture to Penang and witness its rich heritage, or visit the pristine rainforests of Borneo. Malaysia's diverse landscapes and warm hospitality will leave a lasting impression.
6. Turkey – Where East Meets West:
Turkey invites its tourists to delve into the captivating blend of Eastern and Western cultures. Explore the historical wonders of Istanbul, including the majestic Hagia Sophia and the mesmerizing Blue Mosque. Discover the surreal landscapes of Cappadocia, Pamukkale's terraces, and the ancient ruins of Ephesus. Turkey offers a remarkable journey through time and culture.
If you're seeking the perfect international tour package to make your travel dreams a reality, look no further than traveltovizag.com. With our extensive range of destinations and impeccable services, we provide extraordinary holiday tour packages. Whether you are on a solo adventure or planning a family vacation, traveltovizag.com offers a wide range of options to suit every traveler's preferences.
We have curated a list of budget-friendly destinations that offer easy visa processes, breathtaking experiences, and a lifetime of memories. From thrilling water sports to mesmerizing treks, these best holiday packages have something for everyone. Pack your luggage, get your passport, and prepare for a vacation you won't soon forget!