Discover the Best of Vizag with a Visit to the Picturesque Vuda Park
Visakhapatnam, popularly known as Vizag, is a picturesque coastal city in the Indian state of Andhra Pradesh. This city is known for its stunning beaches, cultural heritage, and scenic landscapes. In addition to its beaches, parks, caverns, museums, and scenic surroundings, one of the must-visit places in Vizag is Vuda Park, which is a popular attraction among locals and tourists alike.This park, which bears Mr. Taraka Rama Rao's name in honor of the previous chief minister of Andhra Pradesh, is a well-known destination as Vuda Park and is perfect for relaxation.
VUDA Park contains lovely vegetation and was built on a huge area. In addition to a boating dock and a skating rink, there is a panoramic sea view with a dancing musical fountain, multicolored ups and downs that move to the beat of the music, as well as facilities for children that include horseback riding and camel rides and a fully furnished gym.
Here's everything you need to know about the Vuda Park
VUDA Park, a 55-acre development of the Visakhapatnam Urban Development Authority, is located not far from Ramakrishna Beach, another well-liked tourist destination in Vizag.
VUDA Park attracts many nature enthusiasts due to its 37 acres of lush lawns, over 2500 shady trees, and a variety of floral plants.
The VUDA park is a specialized adventure park in Vizag and a popular tourist destination for thrill seekers. Travelers can enjoy unique experiences like skiing there, which is now known as the VRMDA park.
It's the perfect place for a late-night snack, especially if you have kids with you.
The park's main attraction is the musical water fountain, where water dances to the beat of the music and draws visitors of all ages.
Vuda Park Timings:
The Vuda Park is open from 9:00 AM to 8:00 PM every day. Visitors can enter the park until 7:30 PM.
Things to do at Vuda Park:
Vuda Park has something for everyone.These are some things that you would love to enjoy doing in VUDA Park
Visitors can enjoy a leisurely walk in the park, take a ride on the toy train, or go boating in the lake.
There is also a children's play area, where kids can have fun on the swings, slides, and other play equipment.
The park has a food court, where visitors can enjoy a variety of snacks and drinks.
Children are drawn to the children's park, the boating and swimming areas, and the horse and camel rides.
Due to this park's close proximity to the Ramakrishna Beach, there are always a tonne of people there. Here, you can take a walk to soak in the splendor of this gorgeous park or enjoy a spicy evening snack.
Many people come here to appreciate the natural beauty for morning and evening strolls. VUDA Park, a well-known recreation area, is the ideal location for a family outing.
TravelToVizag, the leading travel agency in Vizag, offers the best Vizag city tour package to explore the tourist attractions in Visakhapatnam and help you create memories in your vacation to Vizag.
TravelToVizag's Visakhapatnam tour package includes a visit to Ramakrishna Beach, Vuda Park, Victory Sea War Memorial and more. Our package also covers other top attractions in the city, including the beautiful Kailasagiri Hill Park, and the iconic Submarine Museum. Our Vizag trips are customizable, to meet your specific needs and interests, we provide a one-day tour package in Visakhapatnam which helps you see the important tourist attractions.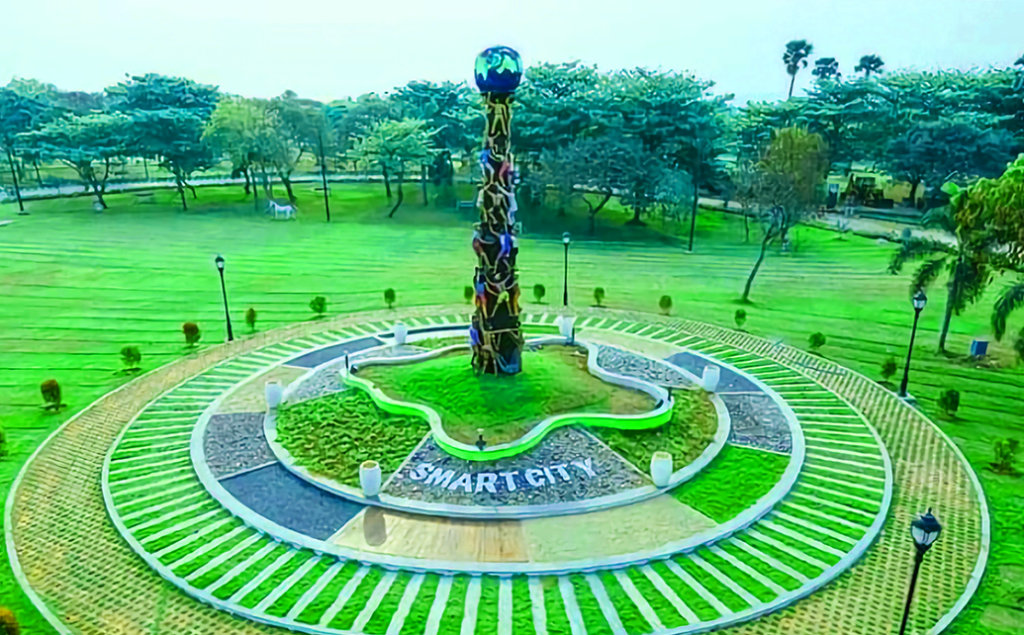 One Day Tour Package in Visakhapatnam:
If you are short on time, you can opt for a one-day tour package in Visakhapatnam. These packages cover all the major attractions of the city, including the Vuda Park. The packages are affordable and convenient for those who want to explore the city in a short amount of time.
At TravelToVizag, we understand that transportation plays a crucial role in your travel experience.Our Vizag city tour packages include hassle-free transportation during your tour. We provide transportation as part of Vizag City Tour Packages by Car, mini bus and Bus for group trips in Vizag.The packages are customizable and allow visitors to explore the city at their own pace.
Book your Visakhapatnam tour package with TravelToVizag, the best travel agency in Vizag, and get ready to experience the city's essence with your family and friends!