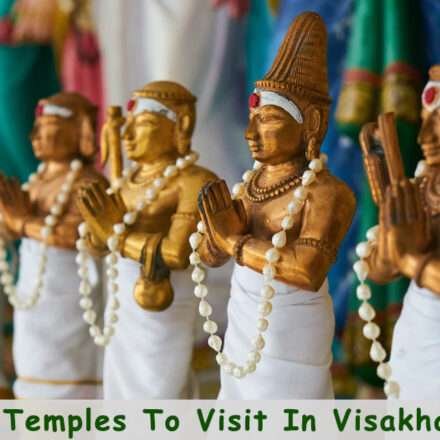 Famous Temples To Visit In Visakhapatnam
Temples are the places of worship and are also considered energy centers where positive vibrations of magnetic and electric fields emanate that have an impact when one visits a temple. And so they are considered as sacred and holy places to energize ourselves and make our everyday life more blissful . Here are the best temples in Visakhapatnam .These temples are all filled with a spiritual energy that emanates from every crevice. Take a look!
Varaha Lakshmi Narasimha temple – Simhachalam
Kanaka Maha Lakshmi Temple – Burujupeta
Sampath Vinayaka Temple – Asilmetta
Kala Bhairava Temple – Adavivaram and Simhachalam
Sai Baba Temple – Chinna Waltair
Venkateswara Swamy Temple – Srungamani Hill
Brahmalingeshwara Temple – Balighattam
Sri Kanaka Mahalakshmi Temple – Buruju Peta
Ramadri temple – Bheemili
ISKCON Temple – Sagar Nagar
Kailasagiri
Kali Temple – R.K. Beach Road
Venkateswara Swamy Temple
It was built in the 16th century AD by Krishana Bhupaluda, King of East Godavari District. Ramanuja designated the temple as one of the 108 revered Vaishnava Abhimana Kshethrams. One of the most well-known temples in Vizag is the Venkateswara Swamy Temple.
Narasimha temples
One of the 32 Narasimha temples in Andhra Pradesh, which are significant pilgrimage sites, is Simhachalam. Along with Srikurmam and other places, it was recognized as a significant Vaishnavite center throughout the medieval era.
Kanaka Mahalakshmi Temple
The original location of the Kanaka Mahalakshmi Temple was Burujupeta Fort. When adversaries destroyed the temple and threw the god into a well, Visakha monarchs came under attack. In the dreams of her followers, the goddess Laxmi expressed a desire for a temple without a roof. One of Visakhapatnam's most well-known temples, Kanaka MahaLakshmi Temple, was finished in 1907.
Sampath Vinayaka Temple
Local devotees visit Vizag's Sampath Vinayaka Temple, one of the city's well-known temples. This temple was constructed by the late S.G. Sambandan, T.S. Selvaganesan, and T.S. Rajeswaran for their own use. The temple was finished in 1962 and is situated in the S.G. Sambandan and Co. complex in Asilmetta. Fishermen who prayed every day before leaving for work were drawn to this temple devoted to Lord Ganapati.
Vizag's Kalabhairava Temple
Simhachalam trees surround Vizag's Kalabhairava Temple, also known as Sri Kala Bhairava Swamy Temple. Adivivaram is 4 km and Simhachalam is 8 km apart from Bhairava junction on Sontyam Road. Since Lord Kala Bhairava Swamy showed himself, the Kalabhairava temple in Vizag has gained fame. On Amavasya, devotees overcome all obstacles to offer prayers.
Sai Baba temple
One of the most lucky temples in Vizag is the Sai Baba temple near Chinna Waltair. The Bhoomi Pooja for this temple was performed on February 9th, 1977. Sai Baba devotees have been holding devotional gatherings ever since March 18, 1993. On the first floor, they worship Sri Sai Baba's 5.5-foot-tall idol.
Venkateswara Swamy Temple
One of the temples in Vizag, Venkateswara Swamy Temple, attracts visitors from all across the country. It is situated on Sirugamani Hill, where it is thought that Garuda seated Lakshmi and Lord Venkateswara. It was built in the 16th century AD by Krishana Bhupaluda, King of East Godavari District. Ramanuja designated the temple as one of the 108 revered Vaishnava Abhimana Kshethrams.
Brahmalingeshwara Temple
A well-known temple in Vizag that draws a large number of pilgrims all year round is the Brahmalingeshwara Temple. This temple, which was built in the past at the direction of the Chola Kings, is thought to have been created by the Gods themselves. The temple has undergone renovations after standing valiantly for years, and a new appearance is now ready to be revealed to the public.
Sri Kanaka Mahalakshmi Temple
The Sri Kanaka Mahalakshmi Temple is well-known to both locals and visitors in Vizag. The goddess Sri Kanaka Mahalakshmi Ammavari is thought to be the family god of the Visakhapatnam royal families. According to mythology, this Goddess' statue was placed at the location of the temple in 1912 after being discovered in a local well. The installation of this idol is accompanied by a variety of beliefs.
Ramadri Temple
Ramadri Temple is located on the Bheemili Beach road, a few kilometers from Visakhapatnam's center. When a 40-foot-tall statue of Lord Hanuman was built, this temple gained notoriety. This is the main attraction in the temple and draws lots of tourists and locals alike.
ISCKON Temple
ISKCON Temple was established in 1996 by revered A.C. Bhakti Vedanta Swami Prabhudeva in New York City, and it has since spread throughout the world. In Visakhapatnam, one of its branches can be found. Lord Krishna and Goddess Radha are the patron saints of the ISKCON Temple. The intention behind the construction of this temple, which began as a component of the "Hare Krishna" movement, was to raise awareness of the sacred Bhagwat Geeta's writings.
Kailasagiri
Kailasagiri is home to the snow-white statues of Lord Shiva and Goddess Parvati, just as Ramadi is home to a sizable statue of Lord Hanuman. This place of worship was established under the direction of the Visakhapatnam Urban Development Authority, or VUDA, and has been designated a plastic-free zone.
Kali Temple
Kali Temple, built in 1984, is not your typical elemental temple. This temple, which from the outside adorns modern architecture, is home to tall pillars and an unusual structure that draws both tourists and locals. This temple's skeletal framework was constructed from bamboo and then reinforced using cement and concrete. The temple has survived numerous disasters. A. Joseph from the Department of Zoology at A.U. created the design.