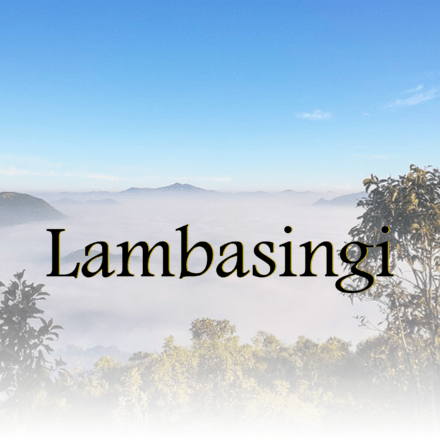 All about Kashmir of Andhra Pradesh – Lambasingi
A village in Andhra Pradesh's Visakhapatnam district is called Lambasingi. The region is superior to Visakhapatnam's other plains and is located 1000 meters above sea level. In Lambasingi, tea and coffee plantations are well renowned. Additionally, the area is abundant in different species, plants, and animals. Due to a small amount of snow that falls there each year, the area has earned the nickname "Kashmir of Andhra Pradesh."
Unlike other hill towns, Lambasingi isn't yet overly developed. Contrary to Ooty and Kodaikanal, there are stores offering spices, tea, and coffee, but the typical bustle of a hill station may be absent. For those seeking a peaceful retreat far from the bustle of the cities, it is good news. On weekends, visitors swarm to this location, but throughout the workweek, Lambasingi returns to its sleepy hamlet status.
If you intend to travel to Lambasingi by car, the village is just about 107 kilometers from the airport in Visakhapatnam. The trip is enjoyable because of the tight turns and the scenery of the foggy mountains. If you intend to travel by public transportation, buses and taxis may be available to take you from Vizag to Lambasingi.
While there are a few new resorts and hotels in Lambasingi for tourists to choose from, you might be able to find homestays if you can make friends with some locals. Recently, organizations have also begun offering tourists tents to stay in. You can negotiate a price for a tent, food, and an early-morning guided trek for anywhere between Rs 1,500 and Rs 2,500. A visit to a strawberry farm, where you might go strawberry picking, is also included in some packages.
Lambasingi doesn't have any nighttime entertainment choices, but you could eat some local cuisine and go to bed early. Without making the hike to the breathtaking viewpoint, a trip to Lambasingi is not complete. There are a few different paths you can take to get to the view, and one of them promises to be the quickest way to the mountaintop. Typically, people awaken as early as 4 am in order to witness the dawn from their perspective. Despite the difficult and exhausting hike, the sunrise will astound you when you reach the summit. Just hope the morning isn't cloudy so you can get the scenery that will create the ideal display photo!
Lambasingi is not the location for you if you want partying, nightlife, and entertainment. Lambasingi is the ideal destination if you're looking for a quiet, serene vacation where you can take a lot of pictures and experience some stunning vistas. In Lambasingi, two days would be sufficient. You can get fresh apples, pineapples, and dragon fruit from the farms depending on the time of year. Pepper and coffee are also available for purchase.
All of these locations in Lambasingi should be on your itinerary if you intend to explore this Andhra Pradesh hamlet, as they are all worthwhile stops.
The Top 8 Lambasingi Tourist Attractions
Here is a list of the top attractions in Lambasingi that no traveler should skip. Take note of the list and make sure you visit most of the places during your trip. You can visit a variety of tourist destinations in Lambasingi, from reservoirs to waterfalls.
Thajangi Reservoir: A View To Calm Your Eyes
Kothapalli Waterfalls: Watch White Water Cascading
Susan Garden: Admire The Yellow Beauty
Ghat Road: Enjoy a Walk With Some Reputable Company
Bojjannakonda: Gape At The Surreal Paddy Fields
Kondakarla Bird Sanctuary: Haven For Bird Lovers
Annavaram Temple: Pay Your Tributes Here
Yerravaram Waterfalls: Relax Amidst Green Pastures