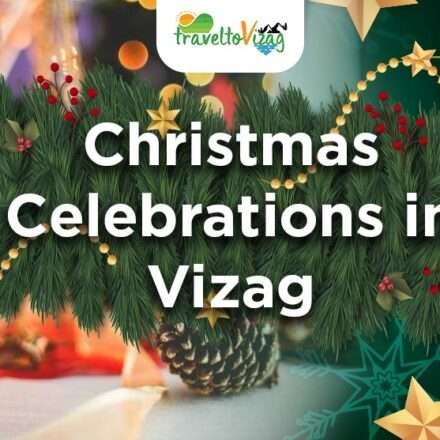 Top Places To Celebrate Christmas & New year 2021 – 2022 in Visakhapatnam
Christmas and New year Celebrations 2021 – 2022 In Visakhapatnam
Every year on the 25th of December, people celebrate the birth of Jesus Christ. This festive season brings with it a lot of opportunities to express and share joy through Christmas gifts and colorful decorations. For Christmas, many go out with their decorations. The Christmas Tree is the most visible and possibly the most important of all the Christmas decorations. The Christmas tree is richly decked with lights and magnificent ornaments and is associated with the Traditional Christmas ceremonies. Colorful lighting, flowers, bells, and candles may be found throughout the venue. For religious reasons, icons of Jesus and Santa Claus are also included.
Christmas 2021 has arrived, and it's happening! Many Christmas Eve festivities are taking place in Visakhapatnam, including Gospel Choirs, Brunch, Santa Claus Gift Distribution, and Christmas Dinners. People decorate modest Christmas trees in their homes, children sing Christmas carols, and families take a week off for Christmas and New Year 2022 to celebrate with people from all over the world. Aside from vacations, there's still much to do! Explore the city of destiny with ease. We are here to help you in making your trip more memorable. For more information about the beautiful destinations, go to www.traveltovizag.com.
The seafront beach property Novotel Visakhapatnam Varun Beach had a fun-filled cake-making ceremony to kick off the festive season. The resort has passionate guests who came together to welcome the season of pleasures in order to spread the cheer of this year's end celebration.
The culinary crew, directed by Executive Chef, plated a range of nuts for the heady mix at the lively Poolside lawn, including tutti-fruity, raisins, cashews, apricots, and almonds, along with a choice of alcoholic beverages. The eager participants, who were dressed in gloves and aprons and ready to dip their hands into the mixture, happily added various amounts of alcohol to the components to produce the magical mixture for the festive season's delicious cakes.
"It was lovely to watch the energetic participants engage in our annual cake mixing ritual along with our management, especially the culinary staff," said Cluster General Manager, Novotel Visakhapatnam, Novotel Vijayawada, and The Bheemli Resort, on the occasion of cake mixing. The joy and togetherness added to the merrymaking celebration's fire and zeal. We also ensured that social distance was maintained and all necessary safety measures were taken."
Traditionally, cake mixing was a place for people to get together, and it is now considered as a preparation for Christmas for producing the much-desired Christmas Plum cakes. Executive Chef went on to say that the heady mixture of nuts and alcohol would be kept in a large container until Christmas week, after which it would be used to make cakes. The Novotel Visakhapatnam team was overjoyed to welcome in the early Christmas season.
Party guide for Christmas in Vizag
Now that the party season has arrived, people are seeking for places to celebrate. Here's a list of venues where you may have a good time with your friends or family, along with detailed information.
Novotel
Every Christmas event at Novotel Varun Beach revolves around food. Make this year's Christmas special by dining on a delectable Christmas buffet, whether for lunch or dinner. Taxes are not included in the costs of Rs 1499.
Four Points by Sheraton
At the Eatery, Four Points by Sheraton, experience the magic of the holiday season and make your Christmas celebrations one to remember. For those looking for closure as well as a good time, this is a terrific alternative.
Ambica sea green
special and delicious Christmas dishes and sweets. Enjoy a one-of-a-kind Christmas brunch beginning at Rs 600 (taxes not included). The highlight will be a live turkey with cranberry and peanut dips, as well as a Christmas cake at Ambica Sea Green Vizag
The Park
Enjoy a relaxing Christmas Eve meal by the pool, then kick off the holidays with a live BBQ, pizzas, and burgers. D'Vibes will provide live music to keep the Christmas mood alive all evening at The Park Visakhapatnam.
If all you want to do is eat a typical Christmas feast while sipping your favorite glass of wine, the Vista is the best place to visit. Not only that your little ones will also be welcomed to this special treat at this Christmas Eve and new year celebration in visakhapatnam. Happy Holidays and Explore the Vizag