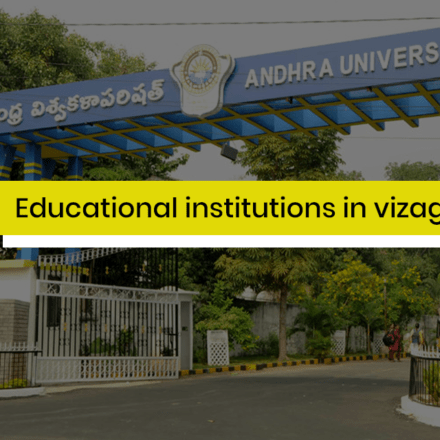 Reputed Educational Institutes in Visakhapatnam 
Visakhapatnam the city of Destiny is well known for its scenic beauty. People would love to travel and view the tourist places. Also Visakhapatnam has renowned educational institutions of historical importance to recent addon institutes like IIM these institutes Provide students from various parts of the world with Quality education and knowledge .
Andhra University
Andhra University was first established in 1926. The University is the first residential, teaching-affiliating university to be approved in India.
One of the first universities to be certified by NAAC with an "A" grade, Andhra University has built a reputation for academic brilliance around the world. One of the original organizations in the sphere of higher education was the School of Distance Education, a division of this university that was founded in 1972.
One of the esteemed campuses in Andhra Pradesh is Andhra University. Andhra University is a large campus in Andhra Pradesh with 422 acres and 121 buildings and such a lovely and pleasant campus that the people of the state and students of the university have an emotional relationship to the university.
By providing a strong push to establishing an environment of knowledge, application, and holistically encouraging youth to become leaders of future, Andhra University has established itself as a name to be reckoned with within the academic community. I think the demands of the modern world will want skilled experts who can resist the dynamics of the rapidly evolving global environment. The institution's top priority is "Making a Difference in the Life of Every Student." To establish Andhra University as the national leader in providing value to its students and providing a transformative educational and life experience, they look forward to a close partnership with students, industry, faculty, and the community.
IIM Visakhapatnam
The esteemed IIM family of business schools includes the Indian Institute of Management Visakhapatnam (IIMV). The Indian government established a new generation IIM in September 2015. The Institute is situated in a temporary, cutting-edge facility on the posh Andhra University campus in Visakhapatnam, also known as the "City of Destiny." The Institute is making good work toward completing its world-class campus, which will be located approximately 241 acres away from the current (temporary) campus and roughly 25 kilometers away. In 2022, the permanent campus is anticipated to be completely functional.
National institute of Oceanography
The National Institute of Oceanography (NIO), one of the 37 constituent laboratories of the Council of Scientific & Industrial Research (CSIR), New Delhi, has its main campus in Dona Paula, Goa, with regional centers in Kochi, Mumbai, and Visakhapatnam.
Following the International Indian Ocean Expedition (IIOE) in the 1960s, CSIR-NIO was founded on January 1st, 1966. Since then, the institute has expanded into a renowned, multidisciplinary oceanographic research institute. The main objective of research has been to observe and comprehend the unique oceanographic features of the Indian Ocean. So far, more than 5000 academic articles have published the findings.
One hundred technical support employees and two hundred scientists are authorized to work for the institute. The four classical disciplines of oceanography—biological, chemical, geological/geophysical, and physical—as well as ocean engineering, marine instrumentation, and maritime archaeology—represent the main areas of research.
The institute's Goa headquarters and regional centers also house a large number of cutting-edge laboratories. Additionally, it runs two research vessels with multimodal oceanographic observation capabilities, the RV Sindhu Sankalp (56 m) and RV Sindhu Sadhana (80 m). The institute boasts the best collection of printed literature on maritime sciences in the nation, with a library that houses 15,000 books and 20,000 back issues of academic journals.
Indian institute of petroleum and energy
The Indian Institute of Petroleum & Energy (IIPEVisakhapatnam), which was created as the Petroleum University, was given as a gift to the Sun-rising State of Andhra Pradesh in India as part of the State's reorganization in 2014. The organization's goal is to become well-known as an academic institution.
Institute has the potential to do research in the field of energy and petroleum. Given that the KG (Krishna Godavari) Basin has been regarded as having the greatest potential for oil and natural gas resources, both locations have a great deal of promise and are justified in beginning in Visakhapatnam.
Due to the Bay of Bengal's extreme differences from the KG basin, it is difficult to explore the oil and natural gas deposits there.
Although the availability of fossil fuels is generally on the decline, the necessity to investigate alternative energy sources is currently of the utmost importance. In order to comfortably meet the world's energy needs for future generations, non-conventional energy sources such as solar energy, wind energy, tidal energy, etc., are to be tapped with the application of nanotechnology designs. We can fulfill all of our country's needs even if just 1% of the solar energy is harnessed. It is not entirely accurate to say that only a tiny portion of solar energy is now being used. When its permanent campus of 201.88 Acres is ready, the institute IIPE-Visakhapatnam will move from its current temporary campus at Andhra University to Sabbavaram, Visakhapatnam.
This institute only offers two undergraduate degree programmes, each with 50 seats: B.Tech. in Chemical Engineering and B.Tech. in Petroleum Engineering.
Kalam Institute of Health Technology (KIHT)
The Kalam Institute of Health Technology (KIHT) supports organizations participating in R&D, industry, policy makers, and knowledge repositories in order to allow targeted study on crucial elements relating to medical devices. This will be accomplished through sharing technical know-how and assembling a strategic and cohesive synergy of scientific centers and institutions to support efforts to promote the industrial production of medical devices. It strives to promote citizens' access to cheap health items and to foster a robust Indian medical device manufacturing industry.