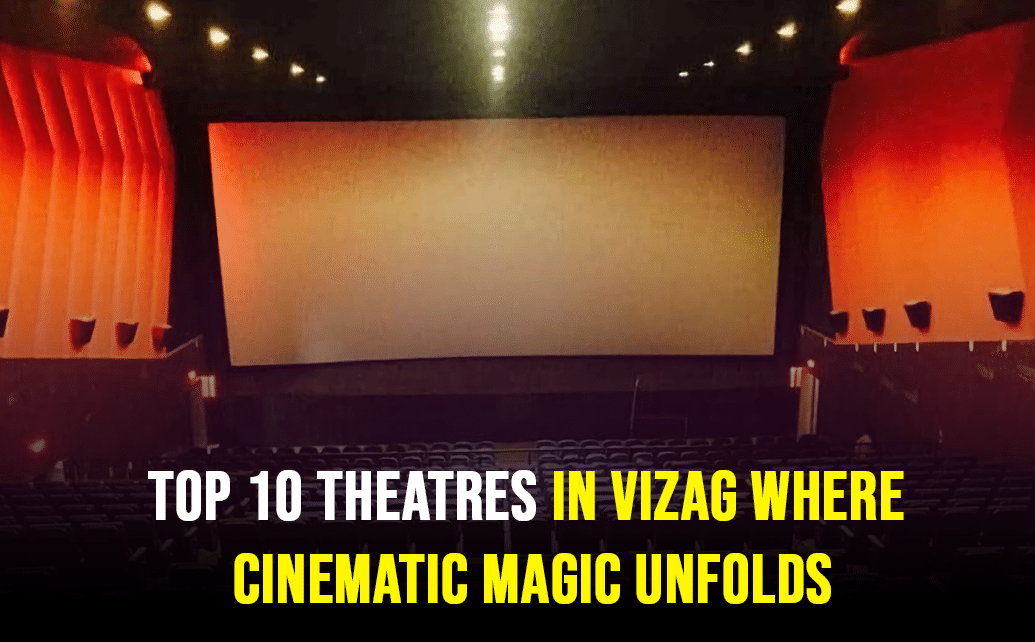 Top 10 Movie Theatres in Vizag where Cinematic Magic Unfolds
In an era where online streaming platforms have gained immense popularity, the love for movies in theatre remains unwavering among people. Despite the convenience of OTT (Over-The-Top) platforms, there is something magical about the experience of watching a film in a movie theatres that continues to captivate audiences. The communal atmosphere, larger-than-life screens, immersive sound systems, and the anticipation shared with fellow moviegoers create a unique sense of excitement and connection.
It is this unparalleled experience that draws people to theatres, even when they have access to movies at their fingertips. The theatrical experience offers a break from daily routines, allowing individuals to escape into different worlds and experience stories in a captivating and uninterrupted manner.
The silver screen has a way of transporting viewers, evoking emotions that are heightened by the collective energy of the audience. It is this shared love for movies and the desire for a truly cinematic experience that drives people to visit movie theatres nearby, creating a cultural tradition that withstands the rise of digital platforms.

Among its many attractions, Vizag has a thriving film industry and a variety of excellent theatres that appeal to the city's movie lovers. Whether you're a local or a visitor looking for amusement, Vizag's cinemas provide an immersive movie experience that will fascinate you. In this blog, we'll take you on a tour of some of Vizag's best theatres, highlighting their distinct qualities and the magic they bring to the big screen.
The Jagadamba Movie Theatres :
Vizag's movie fans hold a particular place in their hearts for this theatre. It was established in 1942 and is considered one of the city's oldest and most iconic theatres. Jagadamba offers a wonderful movie-watching experience with its stunning architecture and a huge auditorium. It has some of the top movie technological elements, including DTS and Dolby Atmos sound systems and released the highest grossing Indian movies.
INOX Chitralaya:
It is one of the city's most popular multiplexes. With its best facilities and comfortable seating, the theatre boasts multiple screens that showcase a wide range of films, from blockbusters to regional movies. It also offers excellent sound quality and picture clarity, enhancing the overall cinematic experience.
The Melody Theatre:
Melody Theatre is yet another well-known Vizag theatre that has been entertaining audiences for many years. Located in the heart of the city, this hotel provides a 4k Dolby Atmos experience. With a cosy ambiance the theatre is well-known for its comfortable seats, great sound systems, and diverse film selection.

PVR Varun Beach:
Situated near the scenic Ramakrishna Beach, Known for its plush interiors and luxurious seating arrangements, this multiplex provides a touch of elegance to the movie-watching experience. PVR Varun Beach offers advanced technologies like 3D screenings and Dolby Atmos sound, making it a preferred destination for those seeking a high-quality cinematic experience.
Sangam Sarat:
Located near Station Road Dondaparthy , has two screens and it is a prominent cinema Hall that offers a 4k Dolby sound experience. It is a preferred destination for those seeking quality entertainment in a vibrant and energetic atmosphere.
CMR Central Mall:
Situated within CMR Central Mall, this multiplex offers a perfect blend of shopping and entertainment. The theatre features spacious auditoriums with comfortable seating, allowing you to enjoy the latest releases in style. With its convenient location and ample parking facilities, it is a popular choice among moviegoers who prefer to combine their movie experience with shopping or dining.
Kinnera & Kameswari:
The two popular cinema halls in Vizag are known for their regional film screenings. These theatres cater primarily to the Telugu-speaking audience showcasing the latest releases, romantic movies, family entertainers and more from Tollywood . It offers a comfortable setting, spacious seating arrangements, and excellent picture and sound quality, ensuring an immersive movie experience for the audience.
INOX Varun Beach:
Another gem located near the scenic Varun Beach, INOX Varun Beach offers a delightful cinematic escape. With its spacious screens and comfortable seating arrangements, this theatre provides a visually stunning experience. INOX Varun Beach is known for its prompt service, cleanliness, and well-maintained facilities, making it a favoured choice for movie lovers seeking an enjoyable outing.
Venkateswara Theatre:
Known for its large screens and immersive sound systems, this theatre creates a captivating cinematic experience, Venkateswara Theatre is a favourite among locals and releases regional and Bollywood movies. It continues to draw crowds with its convenient location providing Dolby 7.1 sound and 2K video with the best movie-watching experience.
Leelamahal:
One of the oldest theatres situated in the heart of Vizag is the first Air condition Theatre in Vizag With its comfortable seating, spacious interiors, and quality projection systems, Leelamahal aims to provide an enjoyable and memorable movie experience for its patrons.
Each theatre offers its own unique ambiance and features, ensuring that movie enthusiasts can find a venue that suits their preferences. From the classic charm of Jagadamba to the modern amenities of Sangam Sarat, these theatres collectively provide a range of options for an immersive and enjoyable movie experience in Vizag.